Test x180 Boost is a popular dietary supplement that is purported to increase testosterone (T) levels in men. Yet, taking a closer look at the supplement reveals that it has very little to stand out compared to other popular testosterone boosters.
Test x180 Boost contains nothing but the vitamins, minerals, amino acids, and herbal extracts that are most commonly found in such products.
Unfortunately, neither of these ingredients nor the supplements that incorporate them have been tested or proven to increase T levels in healthy men
Moreover, patients should note that dietary supplements such as testosterone boosters cannot be effective for individuals diagnosed with low testosterone. That's because clinically low T usually occurs due to disordered testicular function and other related health problems, which renders the natural T production unresponsive to stimulus.
In fact, testosterone boosters such as Test x180 Boost may even be dangerous for patients with low T if they delay starting an effective medical therapy because of the supplement.
What is Test X180 Boost?
Test X180 Boost is a dietary supplement marketed in the category of testosterone boosters by the manufacturer Force Factor. Force Factor is a dietary supplement company that was founded in 2009 and is headquartered in Boston, Massachusetts.
The company manufactures and markets several supplements that are purported to enhance athletic performance, improve physical fitness, and support overall health.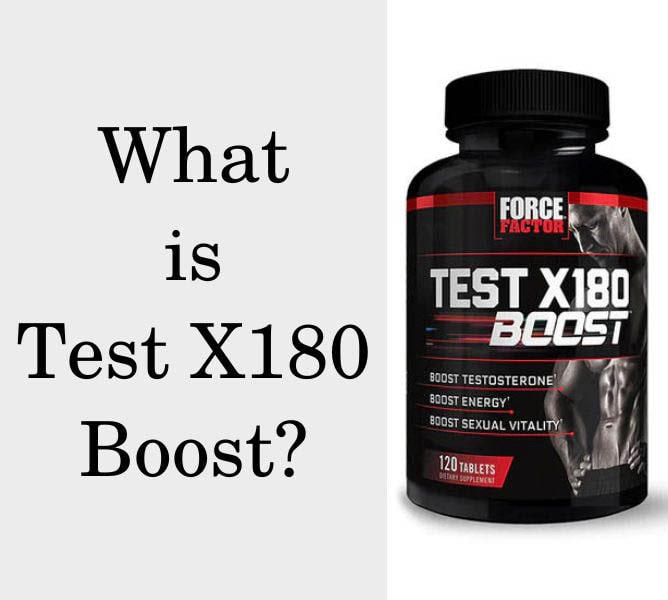 Co-founded by Mr. Daniel Wallace and Mr. James Sietstra, Force Factor is actually a subsidiary of a parent company called Nutraclick LLC, which was also founded in 2009. NutraClick was known as Hungry Fish LLC from 2009 until early 2013.
NutraClick and Force Factor sell their products through their official site as well as hundreds of third-party retailers such as Bodybuilding.com, Amazon, Walmart, GNC, and many more.
Both Force Factor and NutraClick have been involved in several lawsuits in regard to their practices. For example, NutraClick had to settle charges with the Federal Trade Commission (FTC) for deceptive practices.
The company offered "free" samples but enrolled consumers in a recurring monthly fee without consent. The company failed to disclose the charges clearly, as well as the deadline for canceling the subscription leading to complaints from 70,000 people.
After the initial settlement in 2016, NutraClick faced further consequences as it continued to deceive customers. Thus, in 2020 the FTC completely banned their use of negative option sales offers and ordered them to pay back over $1 million.
In 2018, Force Factor also faced a class-action lawsuit for allegedly misleadingly marketing another of their products – Force Factor Pure BCAA as a muscle-building dietary supplement, despite scientific evidence suggesting otherwise.
Test x180 Boost appears to be another one of Force Factor's most popular products, and according to the supplement's label and website, it is also purported to have muscle-building properties.
More specifically, the manufacturer claims that Test X180 Boost can boost testosterone levels, increases energy, enhances sexual vitality, improves workout performance, and can "help you look your best and feel more desired in the bedroom".
Keep reading to discover more about the ingredients in Test X180 Boost and whether there is any reliable scientific evidence behind these claims.
Is there real science behind the Test X180 Boost and its effects?
According to Test x180 Boost's label and official website, taking the supplement will "elevate masculinity to new heights, boost testosterone, boost energy, boost sexual vitality, improve workout performance, and help you look your best".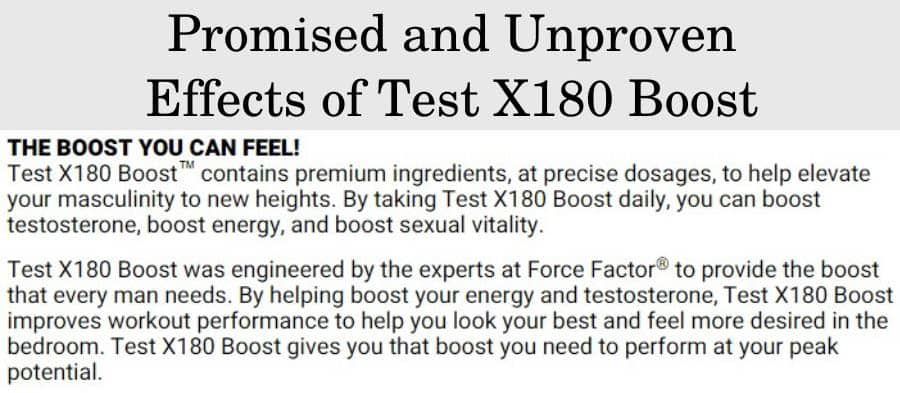 However, the manufacturer does not provide any proof of these claims. There haven't been any studies conducted with the supplement, while the majority of ingredients are poorly researched, and the evidence stems primarily from animal or small clinical trials.
What is even more concerning is that the manufacturer does not share any potential side effects that may occur during supplementation with Test X180 Boost.
Such practices are common amongst testosterone boosting supplements, as another popular testosterone booster Andro 400 claims to be free of side effects because it contains 100% natural products. Yet, its main herbal ingredient – Tongkat Ali, is known to often contain high amounts of the toxic metals lead and mercury.
Test X180 Boost contains several ingredients which are otherwise known to cause gastrointestinal discomfort, such as nausea. These include niacin, Fenugreek, and Horny Goat Weed.
Furthermore, caffeine and D-aspartic acids are two of the main ingredients in the supplement, and they are well known to cause irritability, nervousness, and rapid heart rate in sensitive individuals.
Thus, it is important to consider the potential side effects, as well as the lack of evidence on the purported benefits of Test X180 Boost, before purchasing the supplement.
Dietary supplements such as testosterone boosters are not considered medications and are not controlled for quality and safety by regulatory institutions
So there is no guarantee that T supplements such as Test X180 Boost are safe for use or able to provide any benefits at all.
What are the ingredients of Test X180 Boost?
The ingredients in Test X180 Boost are as follows:
D-Aspartic Acid
Male Vitality T49 Superblend (a proprietary blend that consists primarily of herbal extracts
Unreal Energy Matrix (another proprietary blend that consists of various forms of caffeine)
Micronutrients such as niacin (as niacinamide), vitamin B6 (as pyridoxine HCl), vitamin B12 (as cyanocobalamin), vitamin D (as cholecalciferol), magnesium (as magnesium aspartate), and zinc (as zinc aspartate)
Below you will discover a breakdown of the benefits and potential for testosterone-boosting effects of each major ingredient.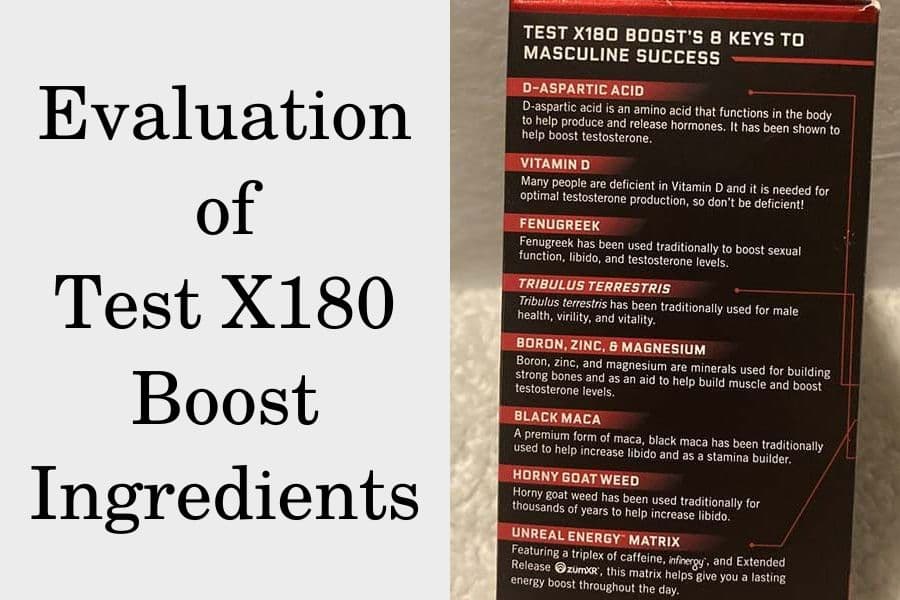 The main ingredient in Test X180 Boost
According to the official website, D-aspartic acid is highlighted as the main ingredient in Test X180 Boost. It is also the main ingredient, as the supplement contains 3120 mg per serving.
However, the evidence does not support the effectiveness of D-aspartic acid as a testosterone booster.
Some small preliminary studies have suggested that the amino acid may induce a short-term increase in T levels, but the only high-quality published evidence to date suggests that supplementation with D-aspartic acid has no effect on testosterone.
Proprietary blends in Test X180 Boost
The Male Vitality T49 Superblend contains extracts from several herbs, including Fenugreek, Tribulus Terrestris, Horny Goat Weed, Black Maca, Cordyceps, and Stinging Nettle, in combination with diindolylmethane (DIM) and boron.
The total amount of the proprietary blend is 760 mg, but it is not clear what are the specific quantities of each herbal extract, DIM, and boron.
The majority of these extracts are known aphrodisiacs, but in order to exert any meaningful effects, they must be supplemented in doses of at least 500 mg per serving.
Therefore, it's obvious that Test X180 Boost does not contain sufficient amounts of either of these extracts to result in any effects
Furthermore, studies on Fenugreek, Tribulus, Horny Goat Weed, Stinging Nettle, or Maca all show that these extracts have no effect on testosterone levels, even in adequate quantities.
Moreover, DIM may actually antagonize the effects of certain male sex hormones (androgens) in men rather than produce a testosterone-boosting effect.
The other proprietary blend in Test X180 Boost – Unreal Energy Matrix contains 3 different types of caffeine – Caffeine Anhydrous, zumXR Extended Release Caffeine, and Infinergy DiCaffeine malate.
This blend may contribute to an increased feeling of energy and wakefulness after supplementing with Test X180 Boost.
However, caffeine hasn't been reported to increase T levels. Further, an extended-release of caffeine in your system may significantly disrupt your sleep quality even if you take the supplement in the morning.
Micronutrients in Test X180 Boost
Test X180 Boost provides almost 4,000 IU of vitamin D3 with every serving. Vitamin D deficiency, which usually occurs predominantly during the winter/spring months, can have negative effects on testosterone synthesis.
Thus, supplementation in healthy but deficient individuals may provide benefits for testosterone synthesis. However, the vitamin hasn't been reported to provide benefits in non-deficient men.
Similarly to vitamin D deficiency, the deficiency of zinc may have a negative impact on testosterone levels. However, zinc deficiency is rare amongst healthy men, and supplementation does not provide any benefits for testosterone synthesis in non-deficient individuals.
Despite the fact that Test X180 Boost supplement lists magnesium aspartate in its ingredients, the amount found in the supplement is neglectable (under 3% of the recommended daily intake)
Niacin has no benefits for testosterone at any dose. It may have benefits for cholesterol and triglyceride levels but at much higher doses than the 10mg per serving found in Test X180 Boost.
Vitamin B6 deficiency is extremely rare, and supplementation hasn't been reported to increase testosterone synthesis or provide any other particular benefits.
Vitamin B12 deficiency may occur in certain diseases or due to restrictive diets such as veganism. However, supplementation hasn't been shown to provide benefits for testosterone synthesis.
Real customer reviews on Test X180 Boost
Below are several reviews from Test X180 Boost users who share their experience with the supplement.
Here are some of the verified buyers that have shared their feedback on Amazon:
"Mohammad M. (3.0 out of 5 stars): – I used it everyday as directed but didn't see much difference."
"Emil Savino (1.0 out of 5 stars): – Snake oil! Drink a cup of coffee, it's the same thing. These were nothing but low dose of caffeine."
"Kenneth Allison (1.0 out of 5 stars): – Did not like it made me nauseated and extra nervous."
Better Business Bureau is one of the most reputable websites which share unbiased information about various businesses. However, there aren't any customer opinions regarding Force Factor's products, such as Test X180 Boost.
However, a similar website called ComplaintsBoard is filled with dozens of complaints from users who have been either scammed by the company Force Factor or experienced side effects due to using their testosterone boosters.
Furthermore, Reddit is another website where Test X180 Boost users can freely share their experience with the supplement:
"I used numerous free samples of that when I was a 22 year old college kid … don't bother"
Get a free consultation with our medical expert for any questions about hormone replacement therapy